Learn to improvise as a professional musician over a jazz standard, a blues, or any other modern music style. Improve your technique and phrasing, learn how to create your personal licks and the secrets to arrange and harmonize any melody in real time.
The learning process is now divided into individual goals, to allow the students to get done what they want. I accept students with basic knowledge as well as experienced musicians that need to improve specific aspects of their playing.
Some of the concepts that I cover in my lessons:
Solo Building / Storytelling

Comping

Voicings

Technique exercises

Transcription

Scales

Rhythm development

Melody harmonization

Repertoire

Generative Meldodies
Most of the time we learn musical concepts like scales, arpeggios, chord substitution etc... We practice for hours but then when it's time to play we often can't use anything that we studied or practiced. This because the old and wrong approach of the common way of teaching that only generate frustration among the students.
For this reason I developed a teaching method focussed on the practical aspect of playing music, where all the theory concept are consolidated immediately, using a "performance vision" and what I call "Smart Practice". This doesn't means that you shouldn't practice, but I'll teach you how to optimize your time wisely.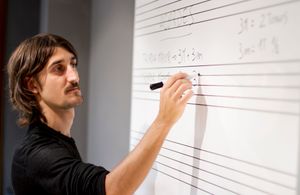 MUSIC THEORY and COMPOSITION
Learn Music Theory concepts applied to composition and improvisation. I divide the courses according to the student needs and level. Every student is going to have a personal study plan.
Level 1 (Basics) For any musician who want to know how music works.
Level 2 (Intermediate) For the musician who wants to make a step further in his musical career and start to write his/her own composition, or to understand the basics of improvisation.    
Level 3 (Advanced) For the students that want to have full control over their music, to write and arrange their own original songs, basic reharmonization techniques and advanced improvisation concepts.
Level 4 (Master) Different type of advanced reharmonization concepts, arranging for for big band or  full orchestra.